"All management and (sales) agents should be exposed to Chuck's presentation."
New York
Fortune 500 Insurance Company
"I now have more and better tools to accomplish my goals: more lucrative sales, make more money!"
Cincinnati
Cincinnati Enquirer Advertising Staff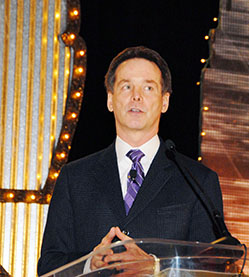 "Loaded… Loaded… Loaded."
Chicago
National conference of fundraising professionals

"By far the best presentation I've seen in years!"
Washington, D.C.
Society For Marketing Professional Services
There are 5 living generations of Americans. 4 of them are still very active in the workplace and marketplace. As sales professionals, each generation has distinct selling skills – and weaknesses – and attitudes towards selling. As customers, each generation has its own preferences, especially when it comes to common courtesy and customer/client service.
Chuck Underwood's training programs helps each generation of salespeople and customer-service personnel to understand these differences, bridge the generation gaps with clients and customers, and achieve better sales results and customer satisfaction.
Chuck says: "Two of the key breakdowns in selling and customer service are (1) ignorance as to the preferences of other generations of clients and customers and (2) sharp differences in what constitutes common courtesy and customer service. Beyond their control, Millennials and GenX'ers came of age when courtesy became a casualty of Americans' suddenly rushed lives and time-poorness. The problem is, the other three generations remember – and prefer – a more courteous customer and client experience than younger generations have ever witnessed. The solution is generational selling and customer-service training. And to be honest, I've been somewhat surprised to learn how beneficial this is to B2B selling, not just B2C."
Client says: "If we do this right, it will bring in revenue. But we have to do it properly and not rush it."
Sales Staff seminar evaluation, Cleveland Plain Dealer
To contact TGI about Generational Marketplace Strategy:
PH: 937.247.1123 (Ohio)